A year or so ago, Liam's doctor recommended applying to have our family granted a 'Dream Vacation'. He told us that this would be a great age to go since Liam is old enough to show his own interests and still young enough that he is able to participate in many activities.
We were granted our trip by a wonderful organization called Earth Angels.
We immediately felt loved and cared for by the volunteers in this group. You could see in their eyes that they genuinely wanted us to relax and enjoy this opportunity. Liam was asked what he might like to do on a dream trip. Being 8 years old at the time he didn't quite feel confident with giving a response. Liam quietly, and respectfully asked if maybe, um, if it wasn't too much to ask, he could go to Great Wolf Lodge? Our Earth Angel friends said "think bigger." Liam's eyes widened and he then knew what he really wanted would be acceptable, "Harry Potter World!" he said. "Oh, we should probably go to Disney too, ya know, for Lydia to see the princesses" he added.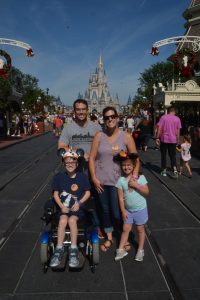 Over the next few months we received the details that our flight, resort and park tickets were organized. Every vehicle transfer from hotel to plane, plane to hotel, park to hotel, etc. were all covered as well. We knew we were in for a treat. A week before the trip we met with the generous folks at Earth Angels again and they wrote us a check. They covered every last dime of this trip. All food, souvenirs, and any random expenses that the trip might include. They reassured us that we will not spend a dime.
Earth Angels set us up with a hotel on Friday night at the Columbus Airport so that we didn't need to wake early on Saturday and make our day even more taxing. We had a bit of a hiccup as Lydia needed to be taken to a Minute Clinic and was diagnosed with Strep. It wouldn't be a vacation with kiddos unless someone was sick!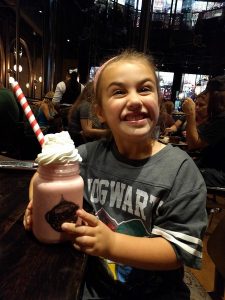 In the morning we had a lovely breakfast with our Earth Angel friends at Max and Erma's. The kids couldn't wait to get on the plane as this was Lydia's first flight and the first flight Liam remembers (he was a toddler when we went to Italy). Southwest was very helpful in guiding us on how to handle Liam's power wheelchair. Mark and I were very nervous on if the chair would arrive in Orlando without any damage.
It was so sweet to watch both our children, sitting comfortably in our bulk head seats, looking out the window as we climbed above the clouds. I don't think flying will ever get old for me, it's so amazing.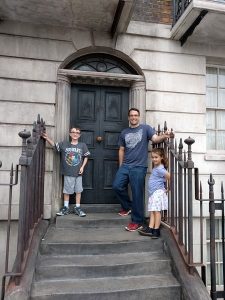 Upon arrival in Orlando we saw Liam's chair had arrived with no damage, shew! This was a big relief as any damage to the chair would have meant Liam couldn't be independent during the week and that we then would need to schedule service upon return. Yet another doctor's appointment is not ideal.
Orlando greeted us with a sunny 82 degree day. The weather couldn't have been better during our stay. Everyday was warm enough for water play, but not too hot to enjoy.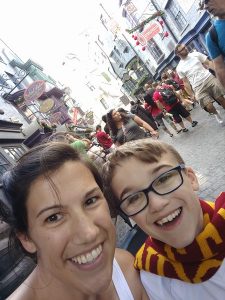 Traveling with someone in a wheelchair adds all sorts of questions. Will reliable transportation that we reserved show up? Will our hotel room be accessible, even if requested, will in actually be available? Will the driver of any bus/van be confident on how to use their lift? Will they treat Liam's chair with respect when they tie it down before travel? Will other people on the bus move to allow for Liam to maneuver his chair into position? Will the elevators be working? Are the elevators central or will they be in some far off corner?
When arriving at the Cabana Bay resort at Universal Studios the kiddos got a kick out of the 50's music and decor theme. We talked about how the kids in the videos being shown around the resort would now be Nana, Pa and Baba's ages.
Liam couldn't wait to get into the park, so off we went to explore. Being a bit clueless we didn't bring the right tickets and ended up just walking around City Walk and getting dinner including all the sugary treats the kids could want. After all this would be a "Yes WEEK" instead of our typical "Yes Day".
It was a good thing we waiting until the morning to make our way to the back of the park for our first visit to Diagon Alley (one of the Harry Potter parks) as the kids were fresh and ready.
Nestled in central Florida is one of the most incredibly detailed and awe inspiring streets you will ever experience. Our jaws dropped when we came around the corner and rumbled over the cobble stone streets under our feet. For any Harry Potter fans you absolutely must visit this park. For those of us who haven't read the books, you still need to go. It was absolutely incredible. The detail in making the park was astonishing.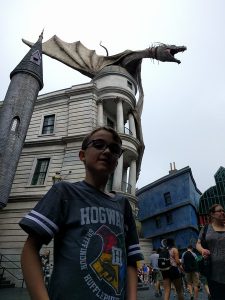 The children were eager to choose their interactive wands and get started casting spells around the park. Liam had his eye on Professor Dumbledore's wand and Lydia picked Hermione's. The park provided many opportunities for wand holders to practice their spells and make the park come to life. Some of these spells included raising a feather, making it rain, turning lights on and off, or making a pile of dragon poop shoot out a stink.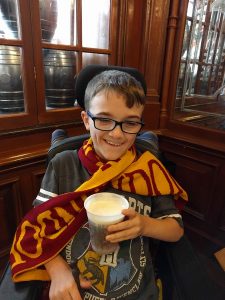 With our bellies full of butterbeer and fish and chips we felt pretty lucky to give Liam the chance to ride some roller coasters. Because of his neck weakness and future heart issues this will not always be an option. Universal Studios employees immediately sent him in the Express lines and then told him he could ride twice in a row if he wanted. He understood that he was lucky, and without those long wait times he had a truly amazing experience. Waiting in line would have been too much for him, and we are so grateful for the special treatment.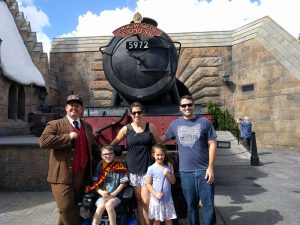 The Hogwarts Express gave us a unique experience as we rested on our way to Hogsmeade. It is pretty impressive that you feel like you are in England when you are actually in Florida. Job well done, Universal and JK Rowling!
This trip included LOTS of walking/wheeling, sleeping fast and hard, eating way too much (usually filled with sugar) and being smart about taking breaks when we needed.
We were lucky enough to spend a full day at the Volcano Bay Water Park. Our kids LOVE water parks and it shows with their sweet smiles. Mark and I both had our time to ride the big kid rides and we even talked Lydia and Liam into riding a kind of scary boat ride. I'm so glad they both stepped out of their comfort zone and found that 'kind of scary' can be really fun!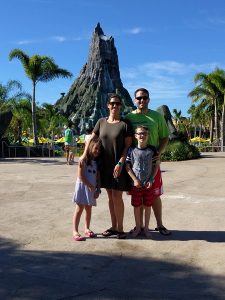 Water parks are not power wheelchair friendly. Mark and I have become very comfortable with advocating for our boy. Most businesses want to be accommodating and do their best to make sure that Liam has a positive experience. At Volcano Bay we walked in and told the employees the best way to support our boy. They did everything we asked and with a smile. It is further proof that confidence in yourself and knowing what you need will give Liam the life he deserves, the life we all deserve.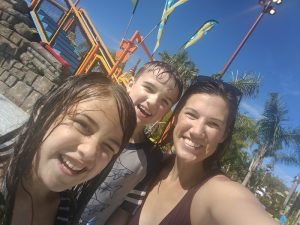 On to Disney. We enjoyed two mornings of the Magic Kingdom and two evenings at Animal Kingdom. Everything was way over the top and the kids took full advantage of our 'Yes Trip'. Lydia chose a princess dress and heels and Liam had an Avatar action figure designed to look like him. These are both items that we would not have had the chance to buy for them had we come on our own. Thanks to Earth Angels we didn't hesitate to say YES!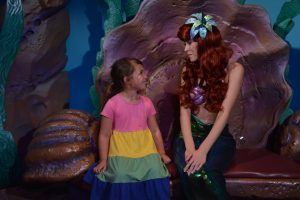 Betsy's Top 5
Lydia's face when meeting Ariel.
Liam's face when the Gringotts Dragon breathes fire.
Mark dancing in the streets with Lydia.
Snuggling with Liam and eating our chocolate frog.
Liam giving me encouragement to be 'brave' and ride the coaster with him.
Mark's Top 5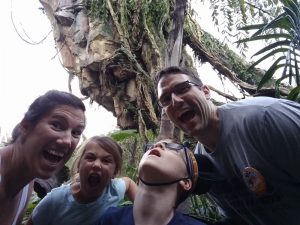 Experiencing Liam's first airplane trip (that he remembers; second if you count the flight to Italy when he was one).
Discovering the amazing detail with Liam and Lydia in regard to the interactive wand experience at Diagon Alley and Hogsmeade.
Experiencing the incredible thrill rides with Liam: 'Escape from Gringotts', 'The Forbidden Journey', 'Transformers: The Ride-3D', 'Star Tours', and 'Avatar: Flight of Passage'.
Convincing Liam and Lydia to ride the Krakatau water coaster at Volcano Bay.
Seeing Lydia determined to master the dance moves in Africa at The Animal Kingdom.
Liam's Top 5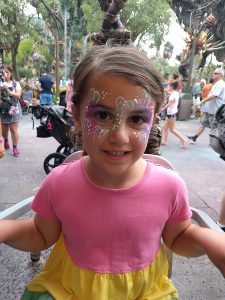 Forbidden Journey Ride at Harry Potter
Avatar design and figure that looks like me
Avatar drumming show
Flight of Passage Ride in Pandora
I got a really neat wand- the Elder Wand!
Lydia's Top 5
Cinderella's Castle
Merry Go Round
Mickey Mouse Rice Crispy Treat and Popcorn
Cinderella dress and light up shoes
Volcano Bay Water Park
If you find yourself looking for an opportunity to contribute financially somewhere, I assure you that this group is worth while. Our family initially felt guilty about the use of funds to go on this trip. We know the enormous cost of basic day to day needs when you have a child with special needs. We also know that life is worth living and when given the opportunity to take our children somewhere special is given to us, we need to take it! We are beyond grateful to Earth Angels for sending us on Liam's DREAM TRIP! Thank you!
Share this page