"Would you like to go to a Cincinnati Reds game this weekend?" 
"Sure, sounds fun!"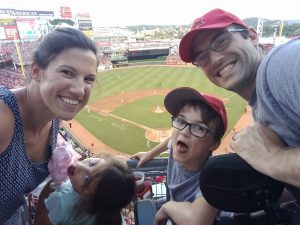 For most families this might be the extent of the conversation that goes into planning a simple outing to a baseball game. For our family, it takes just a bit more.
Step 1: Find seats that are both wheelchair accessible and all four seats are together. Then debate on purchasing the tickets since the cheapest tickets are $35 instead of $15 for the real cheap seats. We pay the extra.
Step 2: Think about how the start time (7:15pm) might affect Liam's ability to participate. Will he be too tired to enjoy the game? Will his body allow him to to stay for the entire game? Will he be in pain the entire next day because he used too much energy that night before? Don't forget, I will need to slow him down through out the day of to ensure that he doesn't use up all his reserves before we even drive to Cincinnati. Will it be too hot? Will he get cold when the sun goes down? Will I notice, since I can properly control my body temperature and don't automatically remember he gets cold and hot more easily than I do?
Step 3: Remind Liam and Lydia to save their energy all day so that we can have fun tonight. Remind them again. And again.
Step 4: Make sure the powerchair has a full charge.
Step 5: Have a brief battle with Liam over bringing the chair at all. Encourage him to see that there will be a lot of walking just to get into the stadium. Try to give him control of his choices, and allow him to be upset when he just wants to walk but we both know that he would need carried after a few minutes. Remember how out of shape I am and how hard it would be on my own body if he needed carried. Feel guilty.
Step 6: Arrive in Cincinnati and realize that we didn't plan enough and don't know where we can park. We have the additional challenge of finding a spot and a half/ accessible spot so Liam can unload safely.
Step 7: Ask for directions/ recommendations from two police officers.
Step 8: See the kindness and compassion in their hearts.
Step 9: Unload and try to move quickly as the game will begin shortly and we don't want to miss any of the fun!
Step 10: Crowds of people surround Liam in his wheelchair. He feels overwhelmed and uncertain about where to roll. He does his best to be careful of feet and not bumping into unaware peers.
Step 11: The elevator is broken. Really. Where to now?
Step 12: Ask for help again. Kindness shows through from strangers. Smile.
Step 13: Walk to far corner of stadium to the working elevator. Elevator tenants speak with raised voices, and go overboard to show how supportive they are of Liam in his wheelchair (almost ignoring his excited sister by his side).
Step 14: Give us directions to our seats. We unload the elevator and maneuver through anxiety causing crowds to find that we are met with stairs. It might as well be a brick wall to us.
Step 15: Turn around and return to elevator.
Step 16: Get proper directions and then use the ramp. Mom is feeling a bit hot, and emotionally tired. I just want to find our seats. The game has started.
Step 17: We find our seats only to discover that we had purchased the wrong seats and don't have enough companion seats together. Mark stands for the game, because that is the kind of guy he is.
Step 18: Buy all the treats. Pay all the money. Totally worth it.
Step 19: Watch my children love every minute of the game and then remind myself that it is worth all the fuss.
Step 20: Watch Liam take his shirt on and off as his body, void of fat, goes from sweating to chilled and then back again.
Step 21: Liam is clearly getting tired, we remind his to raise his wheelchair so he can recline and still see the game. It works wonders. Be thankful for the donated money to be able to buy the extra feature on his chair to allow for this moment.
Step 22: Remind our children that they can go anywhere, and do anything, with just a little planning and patience.
Step 23: Work through crowd again with a bit more confidence on how to return to our car.
Step 24: Watch Lydia sleep during the drive home. Watch Liam turn a shade of grey and tell stories the entire hour drive home. Knowing full well that we will not be able to do his nightly stretches tonight. It's late. Feel guilty.
Step 25: Watch the affects of this late night run its course on the body of my baby. Feel sad. Feel happy for the experience. Plan the next outing. Stay focused on joy.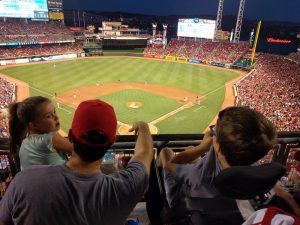 Share this page