Update 3/25/15
I'm a firm believer in balance. Our winters can be harsh, but spring is so sweet. We each can have hard times, but things generally work out. The selling of this van has been a beautiful life experience for me. Sure, the money that helps our family move that much closer to our goals is amazing, but there is more to it than that.
I have watched as a generous family gave something of value over to us. They could have sold the van and taken a fantastic vacation, or just put the money away for a rainy day. But, they didn't. They saw there was a need to be filled and they filled it. I respect this immensely (and they are pretty awesome people to be around).
On the other end of this van buying deal are two friends of mine from my childhood. I have always thought the world of these two and they saw a pretty sweet deal with buying this van. They could help my family and serve their own babies with a van, "with a TV in it!" As their four year old exclaimed!
The world is full of good people.
---
This mini van has been generously donated to our family for us to sell and put the proceeds toward a wheelchair accessible van for Liam. Please share this information with anyone you may know that could benefit from this vehicle. Interested parties can contact Betsy at elizabethannwalker@gmail.com. Thank you!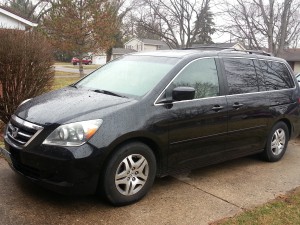 2007 Honda Odyssey EX-L. Clean title. 6 cylinders. 147,909 miles. All the bells and whistles on this one! Dealer documentation included for all scheduled maintenance completed routinely! Brand new battery, and clean bill of health. Asking $9,300.
Airbags throughout, Vehicle Stability Assist, Anti-lock Braking system, Tire pressure monitor, Remote entry with security system, LATCH system for child seats, Navigation system with rear view camera, DVD entertainment, Leather interior, 6 disk CD with 6 speakers, XM satellite radio, Steering wheel audio controls, Rear and Front climate control, Heated front seats, 60/40 split folding 3rd row, Stowable 2nd row plus one seat, two row power windows, second row sunshade, power door and tailgate locks, In floor storage, Homelink system, Power moon roof with tilt feature, Power sliding doors, Roof rails, Heated power door mirrors.
Share this page